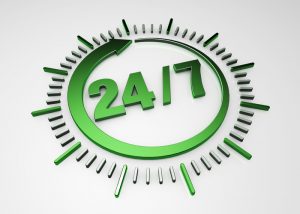 Leslie's mom vowed that the only way she'd leave her apartment in London, Ontario was feet first. She remained independent well into her nineties, but then her behaviour changed.
She had trouble bathing and dressing. She cooked for herself, but would lose interest part way through. She still loved to go grocery shopping, but she'd get up during the night and throw away the food she'd bought because she thought it was poisoned.
Her adult children learned that she had Lewy body dementia, a type of dementia that can cause visual hallucinations and changes in alertness and attention.
Sometimes she'd call her kids in the middle of the night while experiencing a frightening hallucination.
"We were really concerned," Leslie says about one of these middle-of-the-night calls. "She said she'd called a cab. It was minus 16C outside. We knew she would just put on her housecoat and go downstairs. We were terrified she would go out the door and not be able to get back in."
Couldn't be left alone
It was clear that Leslie's mom couldn't be left alone. She needed someone with her around the clock. Because government-funded in-home help is limited, the family hired their own help, screening applicants themselves.
"It was so much work," says Leslie, who lives in Kitchener and works full-time. "I did background checks and all that kind of stuff. And then people wouldn't show up, people would work two weeks and then quit for whatever reason."
Not only that, Leslie realized that her mom was going to burn through her money paying for personal care in her own home.
"All five kids agreed: this could not continue."
But their mom remained resistant to the idea of moving, partly because of her dementia. "It's hard when someone's version of reality is inconsistent with their best interests," Leslie says.
Finding a home dedicated to dementia care
When Leslie started searching for a new home for her mom, she didn't realize there were places like Highview Residences that are dedicated to dementia care. It was actually another retirement home that recommended she check Highview out.
When she visited Highview, she was thrilled with their single-level cottage layout compared to the highrises she'd seen.
"It truly is a home environment," she says. "It's purpose-built for people with dementia."
Convincing Mom
But she still had to convince her mom – if not to agree to the move, then at least to not actively resist it.
"Early on, I asked her, 'Mom, if you ever had to move into a retirement residence, what would be a deal-breaker?' And she said, 'I'd want to take my cat.' She also wanted to take her china cabinet with all of her favourite Royal Doultons in it."
Highview was able to accommodate both.
Leslie says: "I'm pretty sure she thought she'd never be able to take her cat."
In the end, her mom wasn't happy about moving, but she didn't resist.
The move
The move happened all in one day. Her new room at Highview London was set up while she was out with Leslie's sister. Someone brought her beloved cat. The family worked together to make it happen.
"She walked into her room," Leslie recalls. "Everything was familiar, which is very important for people with dementia. We stayed there for dinner. Highview manages this transition very well. I was sick that I was getting her to do something that she never wanted to do, and that was put her in a home. And they were so helpful and reassured me things would be okay."
"I was very pleased, very relieved."
Home-like, secure environment
Now Leslie's mom has someone with her twenty-four hours. "It's a very secure facility." Leslie says. "She can freely go outside to the secure garden (which she loves) or go down to the end of hallway where there's a beautiful sunroom. She plays the piano and can even go to the kitchen and cook or bake, if she wants to."
Highview is also known for its relaxed, flexible dining where residents can eat when they want rather than at set hours. "Mom can go and ask for a snack," Leslie says. "Families can come for a meal. The staff get to know people. They know my mom's favourite things. They know her as a person, not just as that lady who lives on the sixth floor kind of thing. It's very personal."
Crucially, all Highview's staff are highly skilled in dementia care. They not only help residents with their personal care; they keep them actively engaged.
Leslie says that her mom is very sharp. Despite her dementia, if you were to chat with her, she's very charming and engaging. But when she was in her apartment alone, "she would go inside herself, and the delusions and the paranoia would just go off the charts."
At Highview, that's no longer a worry.
"Better care than I could ever provide."
Leslie shudders to think what might have happened if her mom were still living in her apartment during the pandemic. In fact, she gets irritated with people quoted in the news who suggest that you should move your parents out of a retirement home and have them live with you during the pandemic, if you love them.
"If I could be doing that, I would be doing that," she says. "You think this is just a convenience thing? I have lots of love and concern. I can help my mom get dressed, I can help her do all this kind of stuff. But I don't have the stamina – not to mention the fact I work full-time – to look after her. I just don't. She gets way better care at Highview than I could ever provide."
Leslie's impressed by how Highview has handled the lockdown. "Communication is so critical when you can't be there. There have been family meetings in person and via Zoom, and regular emails. Joy (the Chief Operating Officer) is always responsive and gets right back to me. In fact, all their staff have been very responsive to any questions I've had."
"I can be assured that my mom is well looked after. Never, never for a moment have I had any kind of doubt that she's getting the best care."
For more information about Highview Residences, contact:
Highview Residences London
Hayley Gignac, General Manager
gmlondon@highviewres.com
p: (519) 472-8882 ext 201
Highview Residences KW
Katlynne Elgie, General Manager
gmkw@highviewres.com
p: (519) 893-2374 ext 301